Off Week | Origins | Andy Hart + Joe Morris + Miber & Timeleft
viernes 17 junio 2016 @ 11:55 pm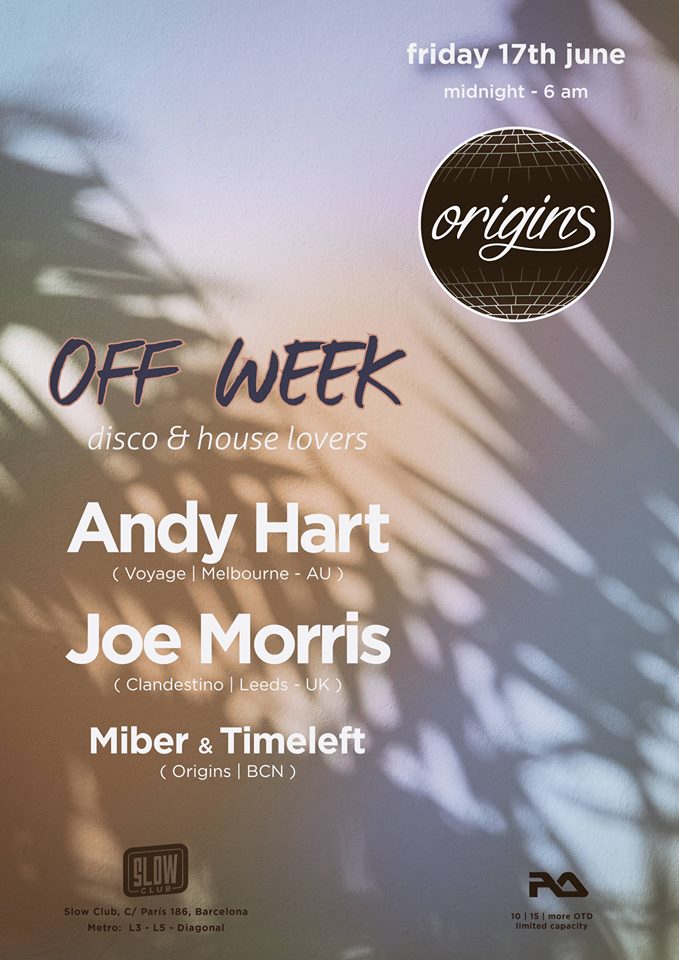 Line Up
Origins is proud to introduce Melbourne masterclass from the one and only Andy Hart.
The man behind Voyage Records and the unstoppable podcast series Melbourne Deepcast will be making his Barcelona debut in the intimate surroundings of the Slow Club.
Like fellow Melburnians, Harvey Sutherland and Tornado Wallace, only part of their time is spent in Europe, be sure to catch him in Barcelona for the first time in June.
Joe Morris is a DJ for almost twenty years. Alongside his DJing and producing, Joe is known as one of the most respected promoters at the heart of the Leeds music scene running his party and podcast series Clandestino.
As is customary, the Origins DJs will be providing the support on the new customized soundystem.
This is a limited capacity event, taken in a little, intimate and sweaty club in Barcelona uptown. This is a party for all those dancers who want to escape for a few hours from the large-scale events which characterize Sonar time. Grab your ticket and polish your disco ball!
Tickets
Tickets available at
Resident Advisor
Early Birds: 10 €
General Release: 15 €
More OTD
+info
Facebook Event
---